Alberta Abortion Clinic story
Submitted to the Committee for the Human Rights Museum
Feb. 2, 2010
Molested at 3. Raped at 13, my virginity was stolen.
Pregnant at 16, I thought, I can do this, I am young and resilient. However, my Mother pressured me to have this "operation" and forget about it. My boyfriend was fearful and went into denial.
I was never told about what an abortion really is, or what it would do to my tiny baby. After the operation, I tried to forget about it...but turned to alcohol and drugs. Ten years later, again pregnant and unwed, my boyfriend in a rage demanded that I have an abortion. My Mother also pressured me to abort. 64% of women say they were pressured or coerced to have abortions.
When I asked the Doctor what was developed, he said it was "just a clump of tissue". He lied to me, I was about 8-9 weeks pregnant. Later I discovered the truth in a book on Pregnancy and Childbirth that from the moment of conception all the DNA was there, if they were boys or girls...My babies had a beating heart by 3 weeks, arms, legs, fingers and toes by 8 weeks!
This abortion was executed in a clinic, while wide awake. I went through the most excruciating pain and felt like I was being raped again while the abortion was happening. It was very traumatic.
For years I suffered as a woman realizing that these were my children, they were not cysts or tumours. They could never be replaced. Years of depression, substance abuse, low self esteem and the pain of knowing I had my own children murdered, dismembered, decapitated and crushed legally at the hands of so called, 'doctors'.
Abortion is not a medical necessity; it is a form of birth control and should be unthinkable!
Do not believe the lies and rhetoric of 'choice'...the choice is made on whom to have sex with, where, when and why. Once conception takes place there is a unique individual human being-ALIVE and growing. We were once that tiny in our mother's womb. Why should someone be killed because of how small they are? Why should they be killed because of where they temporarily live? Women and children deserve better than abortion.
Abortion is really human sacrifice, child sacrifice in our generation.
Many studies also prove abortion damages women physically, emotionally and spiritually. Go to www.afterabortion.org 30 credible worldwide studies prove it also causes Breast Cancer in women.
Abortion is the greatest crime against humanity in our generation! It is not a black and white issue...it is blood red!
In 2004, I founded Canada Silent No More an outreach to the 3 MILLION women across Canada injured and wounded by legal abortion. We do Healing & Equipping Conferences to minister to the broken hearted grieving women suffering from depression, suicidal tendencies, anxiety and eating disorders, sterility, pre-term births in subsequent pregnancies and cancers as a result of their abortions.
Abortion always has many victims, the preborn baby, the mother, the father and extended family and our society. Abortion can affect their parenting with born children, because this one is alive, and that one isn't. It can affect her sex life because now abortion is connected to sex. Many women suffer greatly with the shame, guilt and deep remorse of this diabolical procedure that cures no disease.
We would like to see a large display on FETAL development in this Museum to show the humanity of the preborn child...We would like to contribute our personal testimonies of women broken and victimized through abortion. We want people to hear our voices, and we want to be a voice for the voiceless, our children so they did not die in vain.
We hope and pray that our stories will warn young women of the dangers of abortion and that it will ultimately SAVE Canadian babies from being exterminated. With our aging/dying population, it is vital that this basic right to life should be acknowledged and protected from conception until natural death.
Let us not forget the history of 'personhood' when blacks were considered sub-human and were kidnapped, raped, bought and sold as products, lynched and/or made into slaves. Let us not forget the thousands of Natives that were considered savages by some and murdered and forced into residential schools and reserves. Let us not forget the Nazi's who considered the Jewish people as parasites and who chose to exterminate millions of them.
A mother's womb, used to be the safest place in the world to be, however today, the mother's womb has become the most dangerous place in the world to be for a child.
Over 3 million Canadian babies have been dismembered, poisoned or decapitated by doctors in hospitals and clinics across Canada in the last 40 years. Today it is the preborn child who has no right to life, security or peace. We must report this great atrocity and again bring humanity to the unborn child. They are the most defenseless human beings on earth today. God forgive us for paying for the shedding of innocent blood in our land with our money and silence. Please visit our website for more information...we are collecting testimonies from women HURT by legal abortion.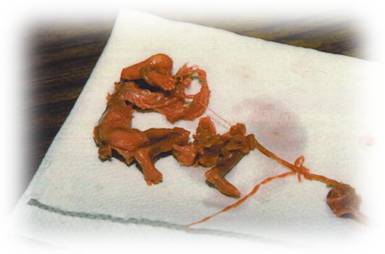 Sincerely,
Denise Mountenay
Canada Silent No More
107 Discovery Ave. Morinville, AB.
T8R 1N1
780-939-5774
www.canadasilentnomore.com
PS. I was there when this photo was taken. The baby was placed on a paper towel, as I cried and grieved for the loss of this precious life. They used to throw the aborted babies into garbage bags behind clinics, now they use Human Waste Disposal companies.
Note from AbortionClinics.ca – If you have a story from your experience in any of the Alberta Abortion Clinics and you would like to share it you can submit your story here